Prostate cancer is the third leading cause of death from cancer in men in Canada.
Most men don't die of prostate cancer but from cancers such as bone cancer, testicular cancer, and others that spread from undiagnosed/untreated prostate cancer (metastatic disease).
When prostate cancer is detected early, the five-year survivability rate is extremely high.
Prostate cancer is the most diagnosed cancer among Canadian men*
Prostate cancer accounts for 10% of all cancer-related deaths in men*
23,300 men will be diagnosed with prostate cancer in 2020*
67 men are diagnosed every day**
4,200 men will die from prostate cancer in 2020*
13 men die from prostate cancer every day**
Prostate Cancer can remain asymptomatic until its advanced stages
Early detection of prostate cancer is key to survival
Regular PSA testing can provide an early warning of prostate disease including cancer
When detected early, the five-year survivability rate is extremely high*
When detected late, and the cancer has spread, the five-year survivability rate is 28%*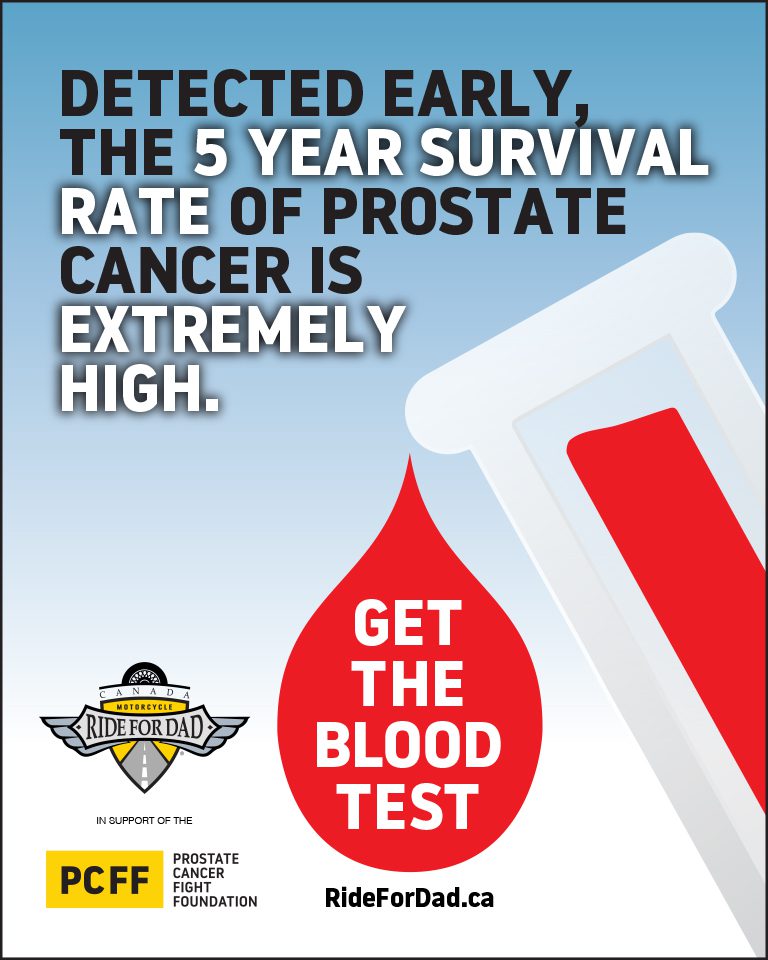 Prostate-Specific Antigen Test (PSA)
The Ride For Dad, the Prostate Cancer Fight Foundation, its funded researchers, Medical Advisory Committee members and survivors strongly advocate regular PSA testing for men over the age of 40. It is a crucial weapon in our arsenal in fighting prostate cancer.
Dr. Chris Morash MD, FRCSC
Head of Urologic Oncology - Ottawa Hospital
I strongly recommend men in their mid-to-late forties to get a PSA blood test to check their prostate health and to establish a baseline to help predict their risk of prostate cancer. We want you to continue to be around for your families. Talk to your doctor about your prostate health and request a PSA test.
Dr. Donald Chow MD FRCSC
Ride For Dad Board of Directors, Prostate Cancer Survivor 
I participated in the Ride for many years and was continually encouraged to get the PSA test. I did get tested and it was positive but I was able to take immediate action. I am living proof that the efforts of the Ride For Dad are a success and you must Get Checked!"
Healthy Lifestyle Choices
A well balanced and nutritious diet paired with regular exercise may help reduce your risk of developing prostate cancer. During treatment, these same measures may help manage side effects and will improve your overall health and well-being.  
Before starting any new physical activity, talk with your healthcare team to determine what is right for you.
Regular Medical Checkups
Prostate cancer is the most common cancer in Canadian men. It generally affects men over 40 years of age. Successful treatment depends on early detection. Prostate cancer is often symptom-free until its advanced stages. Finding cancer early often allows for more treatment options. Regular visits to a family physician who knows your medical history and can detect changes to your health is vital. 
Digital Rectal Exam (DRE) & PSA Testing
All men should be checked for prostate cancer. The decision on when and how to be tested is one you need to make with your family physician. Men over the age of 40 with a family history of the disease, and men of African-Canadian descent are considered at higher risk. The process can start with a simple blood test to check your prostate specific antigen (PSA) levels. Over time changes in your PSA level is an early indication of prostate problems, possibly cancer. Hiding from prostate cancer will never be an effective way of treating it, found early prostate cancer is beatable. Found late it is a different story. Talk to your doctor about the PSA and the DRE – get the facts, know the risks, and make a knowledgeable decision.