The Prostate Cancer Fight Foundation (PCFF) is a registered Canadian charity and the charitable arm of the Ride For Dad (RFD).
Proceeds of RFD events are donated to PCFF to fund research and promote awareness about prostate cancer and the importance of early detection.
The PCFF is a leading investor in cutting-edge prostate cancer research. To date, PCFF has provided early-stage funding to dozens of innovative research projects and is making a real difference in the fight against prostate cancer. PCFF-funded research focuses on saving lives through improved diagnostic techniques and less-invasive effective treatment methods to improve the quality of life of men and their families fighting the disease.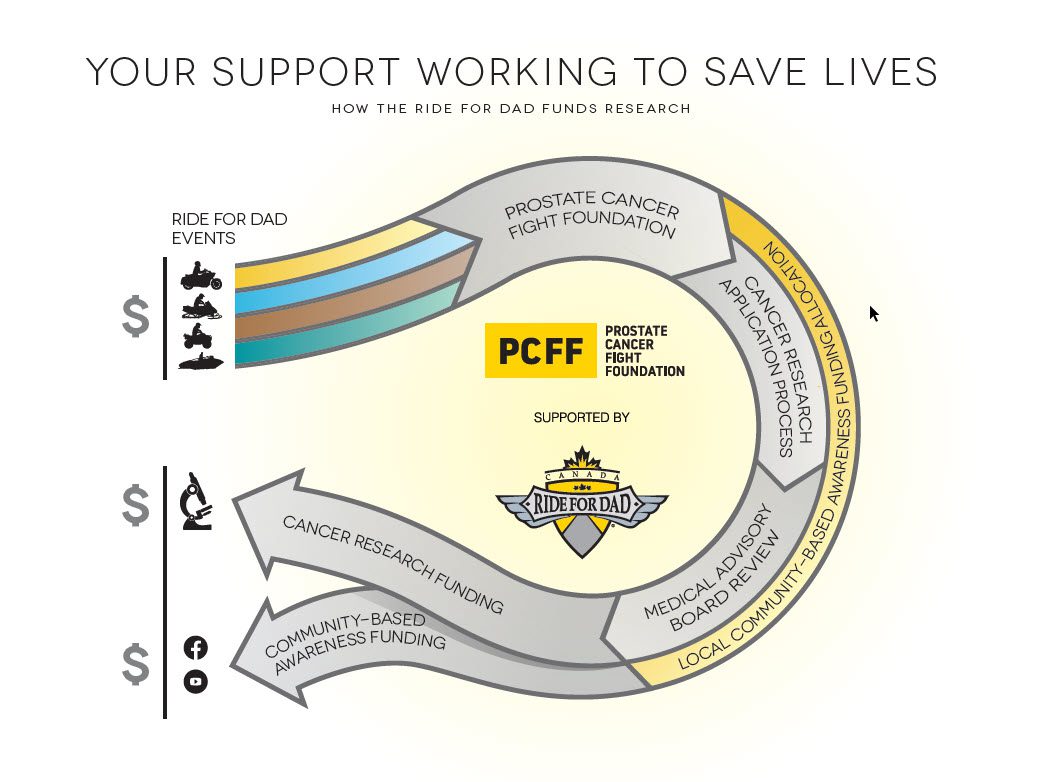 CANCER RESEARCH FUNDING
Grant applications for research funding are submitted annually to the PCFF. Each peer-reviewed application is assessed by the PCFF's Medical Advisory Board, comprised of leading prostate cancer experts, based on its scientific merit, quality of the research team, and relevance to PCFF goals and budget. All projects funded by PCFF are for research intended to save and improve the lives of men diagnosed with prostate cancer.
COMMUNITY-BASED AWARENESS FUNDING
Prostate cancer is the most diagnosed cancer among Canadian men. If detected early the five-year survival rate is over 93%. Prostate cancer can grow undetected for years as it can remain asymptomatic until it spreads (metastasizes). Early detection is best achieved through regular blood tests (PSA) and physical exams.
Ride For Dad awareness campaigns educate the public on the risks of prostate cancer and the life-saving importance of early detection. Advertising, social media, and public events seek to engage the public and urge men to consult their doctor and take action on their prostate cancer. #GetTheBloodTest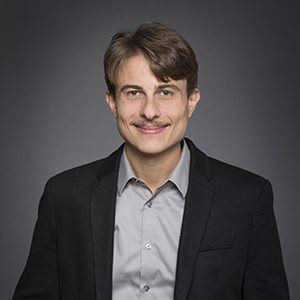 Dr. Michele Ardolino
---
Scientist, Cancer Therapeutics Program - Ottawa Hospital Research Institute /Assistant Professor, Department of Biochemistry, Microbiology and Immunology - University of Ottawa. Michele Ardolino was born and raised in Rome, Italy, where he also obtained his PhD in Immunological Sciences. Michele then moved to Berkeley, California, to train with David Raulet, a renowned leader in the cancer immunology field. In 2016, Michele joined the Ottawa Hospital Research Institute as a Scientist, and the University of Ottawa as an Assistant Professor. The Ardolino lab is interested in determining how tumors evade the immune response and design novel immunotherapies to harness the power of the immune system against cancer.
Dr. John Lewis
---
Frank and Carla Sojonky Chair in Prostate Cancer Research at University of Alberta, Associate Professor, Department of Oncology - University of Alberta The Lewis lab utilizes real-time intravital imaging of the tumour microenvironment to learn about the critical steps of cancer progression. We are investigating novel nanoparticles that are being developed for the early detection of prostate cancer, drug delivery, and the in vivo study of tumour cell invasion and metastasis. Connecting these intimately related projects is an integrated research platform that we've developed for long term time-lapse intravital imaging of human cancer progression.
Dr. Juanita M. Crook
---
Dr. Crook is Professor of Radiation Oncology at the University of British Columbia, British Columbia Cancer Agency, Center for the Southern Interior, Kelowna, Canada. Dr. Crook is an internationally recognized leader in Prostate Brachytherapy.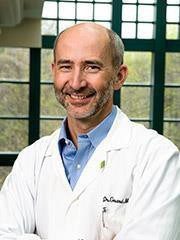 Dr. Gerard Morton
---
Affiliate scientist - Odette Cancer Centre - Sunnybrook Health Sciences Centre Radiation oncologist, Sunnybrook Health Sciences Centre Associate professor, department of radiation oncology, University of Toronto The focus of Dr. Morton's research is the use of image-guided technology to guide interstitial radiotherapy of prostate cancer. He has developed novel methods of delivering high dose-rate (HDR) brachytherapy to treat prostate cancer through clinical research. These protocols have been widely adopted internationally and have set new standards for combining HDR brachytherapy and external beam radiotherapy to treat intermediate and high-risk prostate cancer.